A Lodge for All Seasons (click on images to enlarge)
---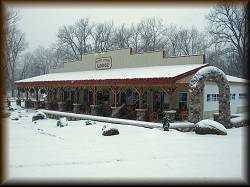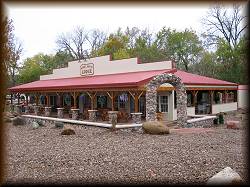 The River Valley Lodge is definitely the centerpiece of this complex. The spacious western lodge consists of a fully heated and air conditioned area of 2,000 sq. ft. and is directly connected to a 1,150 sq. ft. shelter house. The shelter house is actually attached to the lodge but it is open on the east side. Although one side is normally open, a custom canvas wall with windows covers the open side during the cold weather months allowing year round use of this bright and cheery area. This area has heat, air conditioning, and ceiling fans to provide comfortable temperatures and can be used simply as an extension of the lodge to accommodate more guests. This shelter house area is also a super location for a band and dance floor if desired. The lodge also has a 14 ft. by 72 ft. covered front porch which features wagon wheel rockers and benches and offers an excellent location for conversation and/or a cool beverage. There is also a large patio on the east side of the shelter house.
As you can see in the pictures the lodge is beautifully decorated in western style (just like you would want at a horsecamp) and the layout offers various seating arrangements depending upon your needs. The lodge portion, not including the shelter house, has been set up to seat approximately 125 people but it appears that it could be arranged to seat many more. The lodge does not have full kitchen facilities but does offer a stainless prep kitchen, an industrial sized stainless steel refrigerator, and approximately 32 feet of stainless steel serving counters. Of course you can bring your own food or take advantage of several caterers in the immediate area.
The lodge is furnished with both round and rectangular tables, up to 185 chairs, a portable bar, wireless Internet, and a state of the art sound system that plays western music 24 hours per day. Of course there are receptacles for your own audio and video equipment so you can definitely tailor the system to your own needs.
All in all, this lodge is suited for almost any get-together that you can think of but just to name a few would be: birthday parties, reunions, corporate or organizational meetings, weddings and/or receptions. In short, if you need a classy, unique, and well equipped location for your gathering, the River Valley Lodge is no doubt the place to be!
Copyright © , River Valley Horsecamp.